The optimum interplay of individual components is very important for a brake system. The brake cylinders have a decisive role because they have to ensure the perfectly controlled force transmission in the brake system. BPW develops and manufactures its own brake cylinders for drum brakes – another proof of our comprehensive expertise in matters concerning brakes.
Diaphragm cylinder
They act as a service brake and are characterised by small dimensions and low weight.
Spring-type cylinder
They act both as a service brake as well as an auxiliary and parking brake. They have a low weight compared with a diaphragm- piston cylinder.
BPW Diaphragm cylinder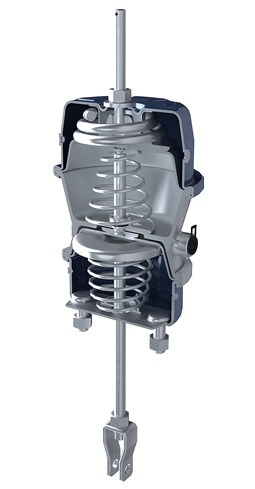 BPW Spring-type cylinder
BPW Diaphragm cylinder - Features and benefits
Constant high quality ensured by tests and permanent quality controls (FMEA, dimensional tests, release pressure tests, functional tests on the vehicle, vibration test, dirt tests, dynamic strength tests with more than 1 million braking cycles, hot and cold test (-40°C, 80°C), force output check
Improved sealing due to the innovative flanging technique
Optimum corrosion protection of housing components using different high-quality coating methods
Optimum corrosion protection of spring due to double coating
Inch and metric connections available
Easy to install due to compressed air connection extension
In drum brakes, there is no need for an external return spring between the slack adjuster and air cylinder bracket (precondition: mounting on BPW axles, round hole yoke end and lever length > 100 mm)
New ECE certificates and test reports are available on the BPW website
Hydraulic brake cylinder
The hydraulic brake cylinder is installed on the standard air cylinder bracket using an adapter. Hydraulic brake cylinders have a CEMAGREF approval in France.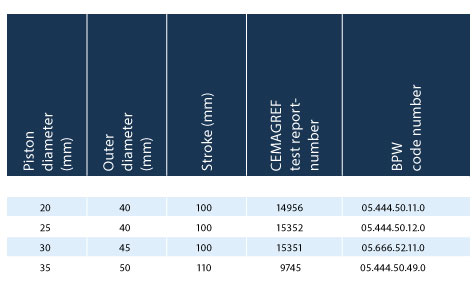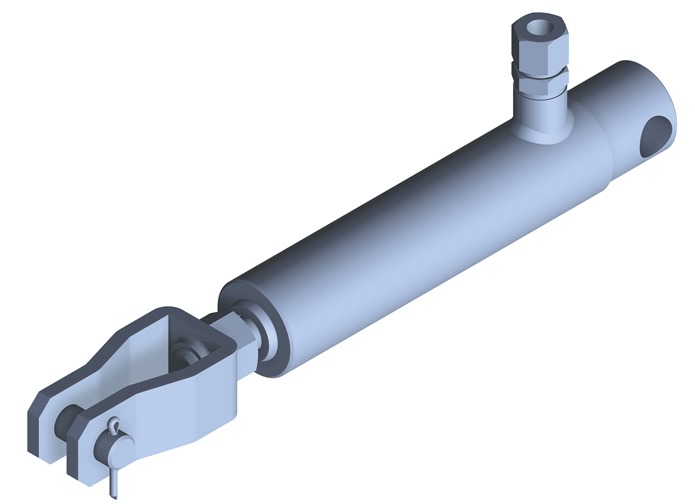 BPW Hydraulic brake cylinder
BPW Hydraulic brake cylinder - Features and benefits
CEMAGREF-certified cylinders (required for the French market)
Easy installation on the standard air cylinder bracket using special adapters
BPW brake calculation for brake system